A claim now sometimes made is that mathematics is the new lingua franca of the scientific world, at least in pursuit of new knowledge.  I'm skeptical that such a claim for coding can be made for scientific or any other knowledge communities  (since coding is more akin to an underlying syntax than to overt semantic expression), the calls for all fields of knowledge to express themselves through a concretizing means via technology, and to render some dimensions of their disciplines interactive and experiential, is persuasive.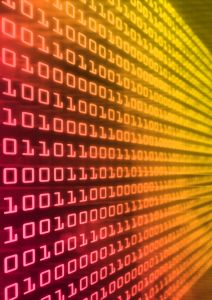 And perhaps the ability to realize this brave new intellectual world should trickle down in the same way that traditional scholarly praxis has been hoped to do with undergraduate students, the ability to research, design, and make competent arguments about different domains of knowledge being assumed as an important competency among the generally educated.  There is, of course, a continuum of competencies, rather than a single competency, which is at stake, both in the traditional cognitive and discursive skill sets and in the technological skill sets evoked here and elsewhere.
Coding is supposed to be a threshold where, once crossed, transforms consumers into makers, who can go from limited off the shelf end users to designs and implementers of ideas.  As is the case with the more established hallmarks of general education skill sets, however, to code or not to code is not merely the question.   Technical literacy goes much beyond coding, as does the technical imagination and how it operates within contemporary culture.  Every technical shop in which I've worked has made a distinction between a coder and a developer, between a developer and a designer, between a designer and an innovator with the ability to envision new uses for existing technologies and new technologies for needs old and new. 
So while coding may not be the new Latin, technological literacy (into which I lump analytical thinking, statistical and other mathematical competency, a grasp of physics and electronics, hardware options, software methods and more) and the ability to apply that literacy through forms of technological expression make a good deal of sense for students now and tomorrow.

by Rory Cellan-Jones / BBC News Technology Correspondent / 28 November 2011
The campaign to boost the teaching of computer skills – particularly coding – in schools is gathering force.

Today the likes of Google, Microsoft and other leading technology names will lend their support to the case made to the government earlier this year in a report called Next Gen. It argued that the UK could be a global hub for the video games and special effects industries – but only if its education system got its act together.

The statistics on the numbers going to university to study computing make sobering reading. In 2003 around 16,500 students applied to UCAS for places on computer science courses.

By 2007 that had fallen to just 10,600, and although it's recovered a little to 13,600 last year, that's at a time in major growth in overall applications, so the percentage of students looking to study the subject has fallen from 5% to 3%. What's more, computing science's reputation as a geeky male subject has been reinforced, with the percentage of male applicants rising over the period from 84% to 87%.

Image Source:  stock.xchng