One of the hot areas in ed tech hardware is tablets. Tablets for K-12 need to be affordable and rugged. They need to work in slow and sometimes unreliable network conditions but meet high multimedia demands.They need to be produced in volume and be available worldwide. Intel is the latest to offer a potential solution for this market. — Kelly Searsmith

by Zoe Fox / Mashable Tech / 10 April 2012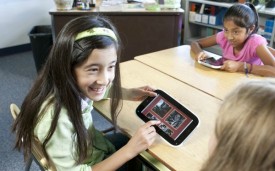 Intel has launched the latest device in its line of classroom computers: a tablet, Intel studybook.
The Intel studybook is built to be both a rigorous education tool and a sturdy playmate. It comes loaded with Intel's Learning Series software, including an interactive ereader and LabCam applications. The rugged water and dust-proof design is constructed from a single piece of plastic, with shock absorbers surrounding the screen. It's also drop tested from 70 centimeters, the height of a child's desk, onto concrete.
"Students today live in a virtual world and this device can give a valid scientific experience for students in emerging economies, " says Wayne Grant, director of research and planning for Intel's Education Market Platforms Group, as he throws the tablet across the table to demonstrate its robustness. "Representations of knowledge are changing. Tools are now based in tablet environments."
The tablet has a 7-inch screen, 1060 x 600 pixel resolution, and can run either Windows 7 or Android Honeycomb software. Some additional features include front and rear-facing cameras, a microphone, multi-touch LCD screen, light sensor support and mobile learning environment. It runs on an Intel Atom Z650 processor.
Image Source: article