A Next Generation Learning Ecosystem
Common Ground Scholar (CGScholar) is a social knowledge ecosystem for teaching and learning across all subject areas, from grade 4 to university, and work or life-embedded learning. CGScholar is the product of cutting-edge research and development into collaborative learning, big data and artificial intelligence, developed by educators and computer scientists at the University of Illinois.
CGScholar is like no other learning platform. It is an integrated suite of apps that supports the following pedagogical functions:
An inclusive class engagement space for ubiquitous learning
A collaborative, multimodal workspace, driven by a "help economy"
A dynamic, just-in-time, AI-driven learning analytics engine
An anywhere/anytime web portfolio
A professional place for interactive course design and delivery
---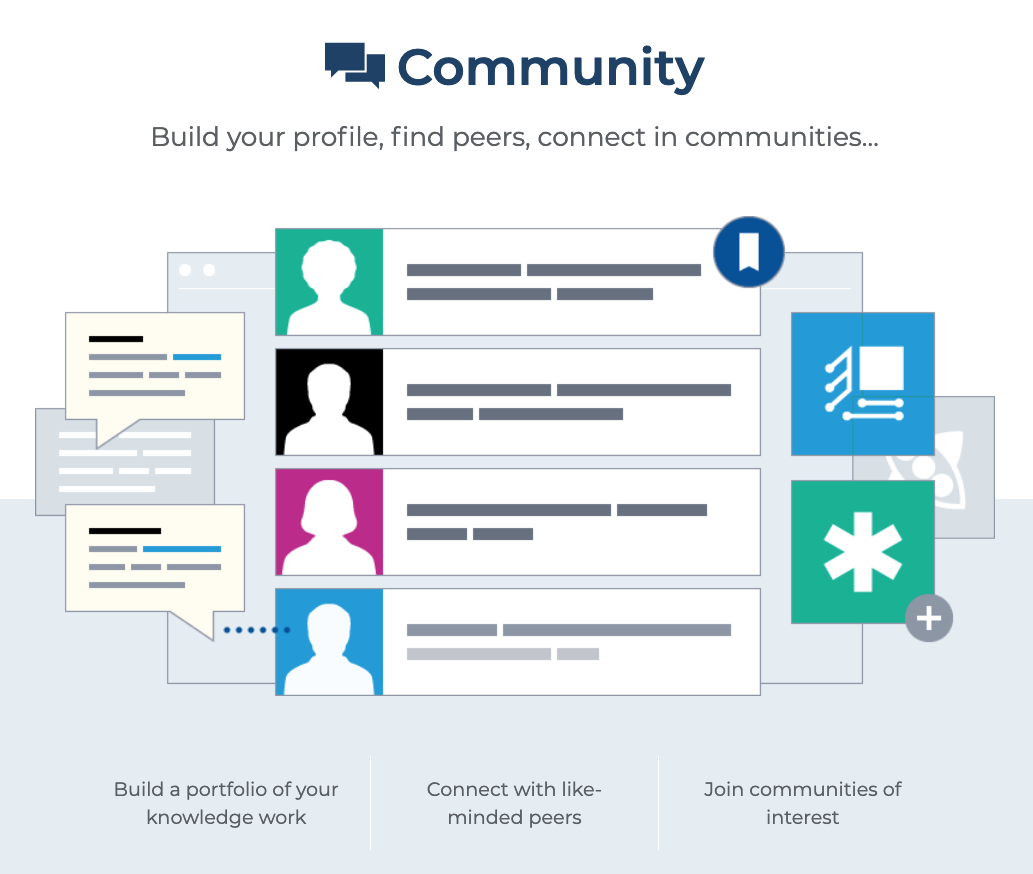 The "Community" app in CGScholar is part social media feed, part blog, part learner or educator profile page, part work portfolio. Educators can deliver content into learners' activity feeds in many media formats including videos and simulations. Every learner is encouraged to respond and interact with others' responses. Learners can also be content contributors, to which others respond. In this way, they become as much knowledge creators as they are knowledge consumers.
CGScholar supports classical "classroom discourse" with some enormous differences:
everyone can be expected to respond rather than just the person who puts up their hand
active participation is balanced with content delivery
discussion can happen anywhere and anytime
big data learning analytics and artificial intelligence assess learner contributions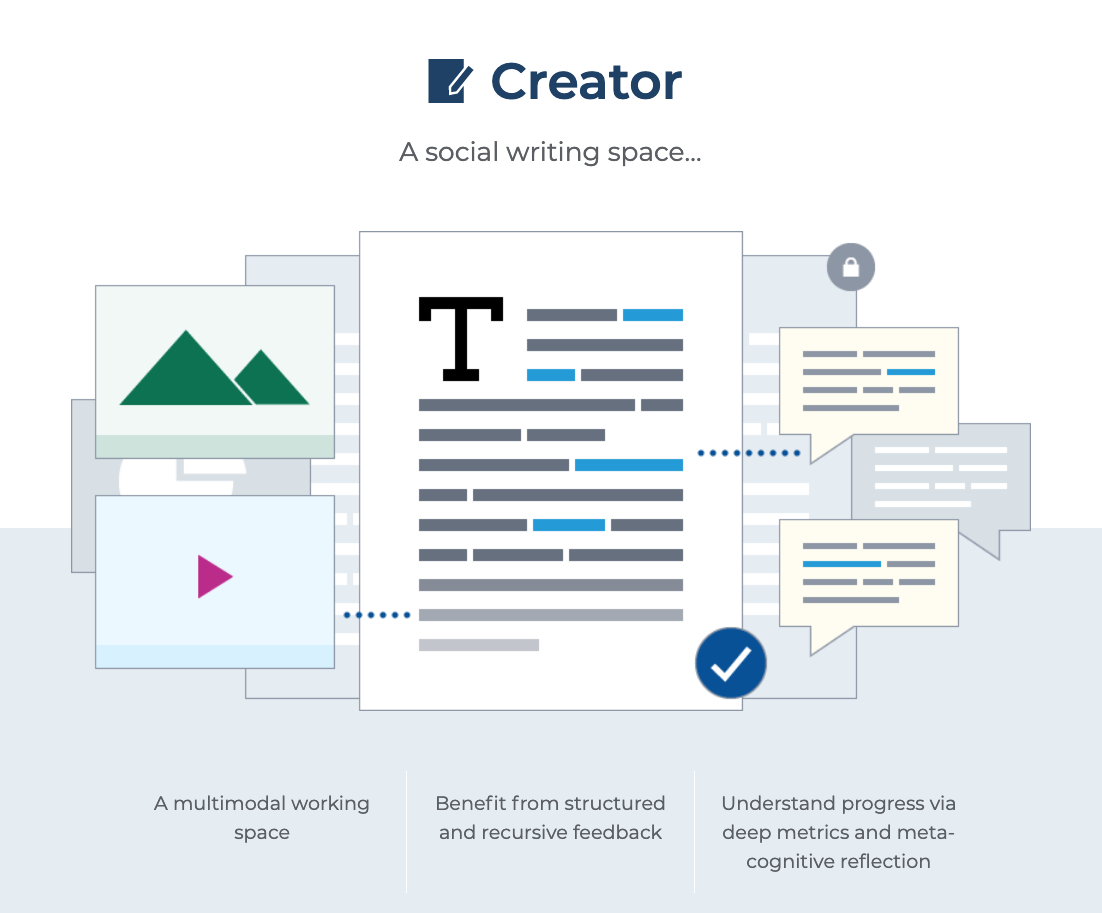 The "Creator" app in CGScholar is a multimodal workspace.
Learners can create multimedia projects, including text and (inline) image, video, audio, dataset or any other digital knowledge artifact.
Creator is a social workspace where peers and admins can offer constructive feedback against assessment rubrics, created by the educator.
Unlike web writing spaces such as Google Docs/Classroom, clear versioning tracks learner progress towards project objectives.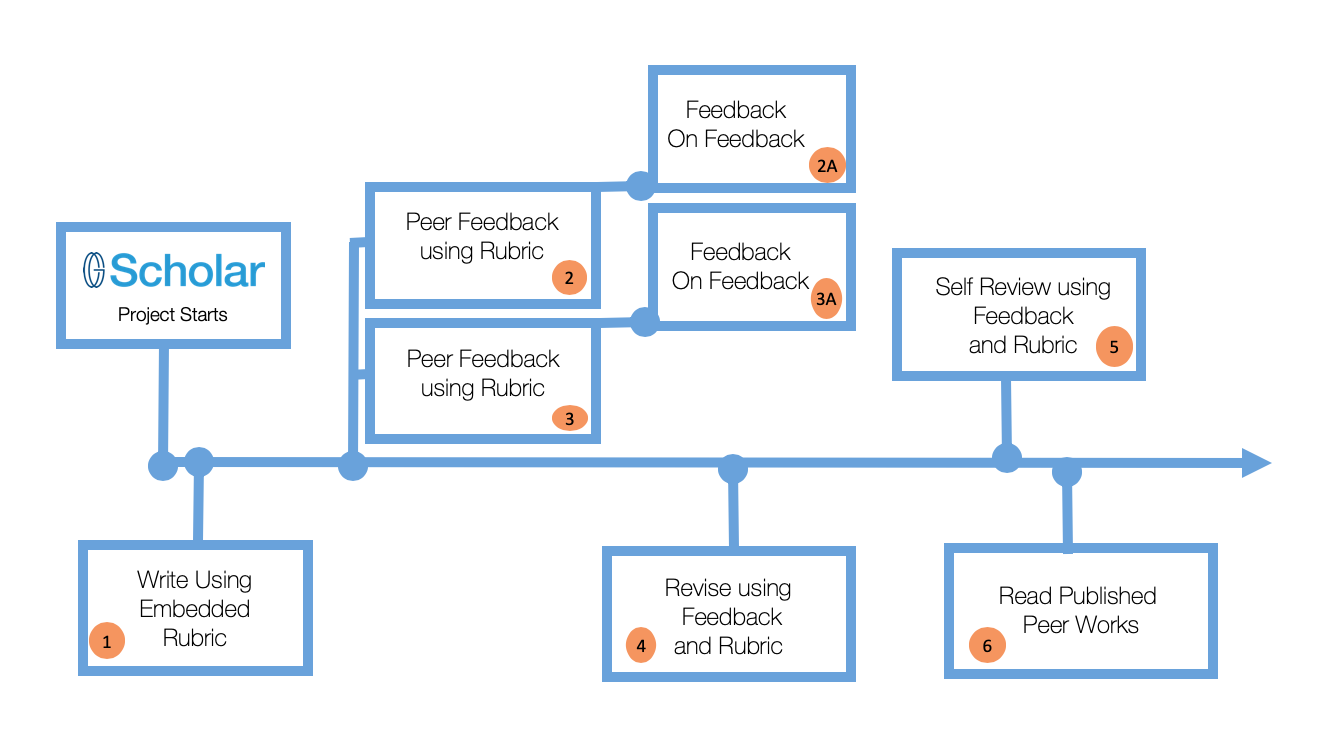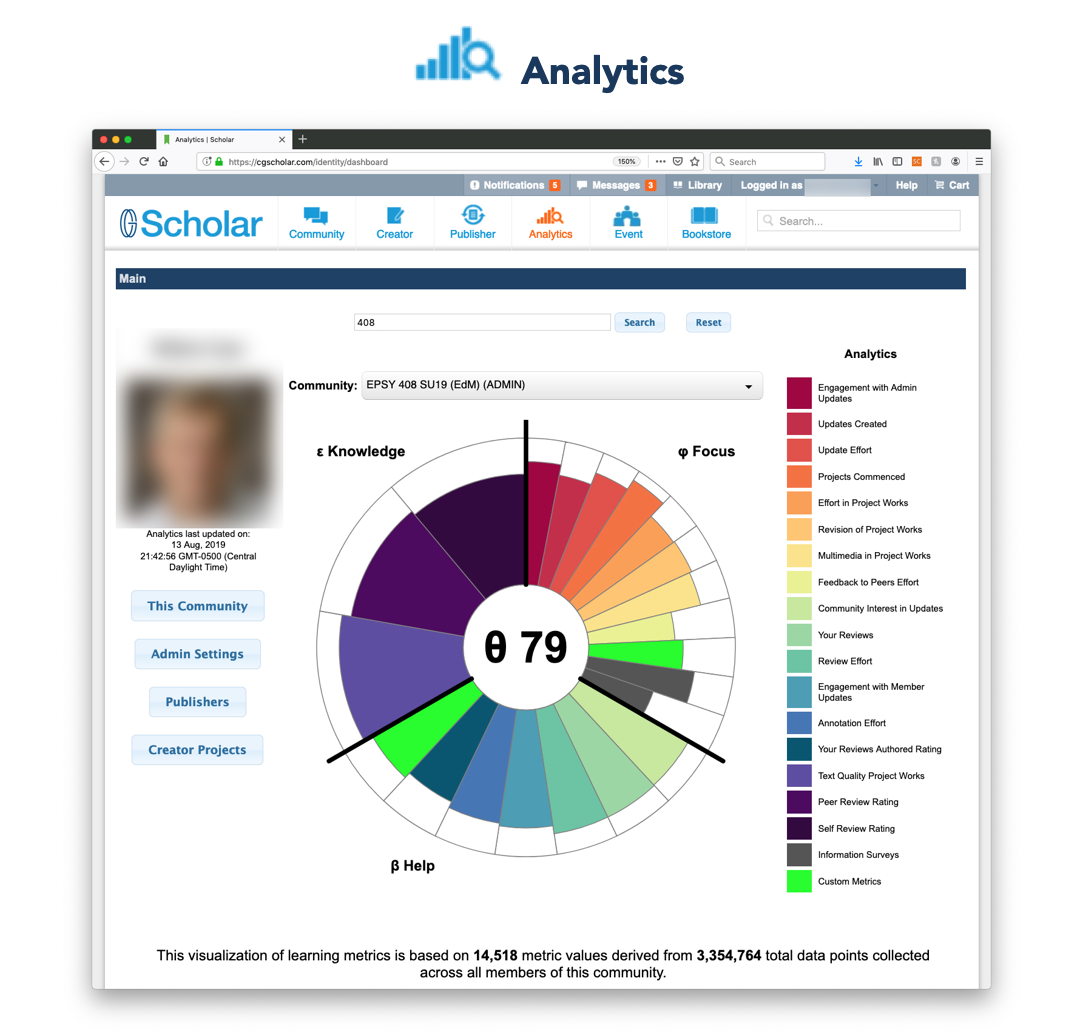 CGScholar's "Analytics" app sets out to end the distinction between instruction and assessment. There is no learning without rapid machine and human feedback. There is no specialized assessment because everything is assessed. CGScholar offers twenty-six different kinds of actionable feedback, including:
a computer suggestion, such as a writing suggestion with an explanation of the reason for that suggestion
a peer idea offered in response to a review criterion
a coded self, peer or teacher annotation
a comment in a class discussion
a response to a question that has a right or wrong answer (in CGScholar's select response "Survey" app)
CGScholar measures three things:
demonstrable knowledge;
focus or effort; and
help, or the quality of a scholar's learning collaboration.
For a learner, there may be thousands of such datapoints in a unit of work or course. CGScholar provides learners and their professors clear progress visualizations based on these data. Learners can access personal data presentations; instructors can access both cohort and individual data presentations.
Every learner can now succeed because at any point in their learning they can see what they still need to do to meet the educator's expectation in a learning module. Educators can see which learners require special attention.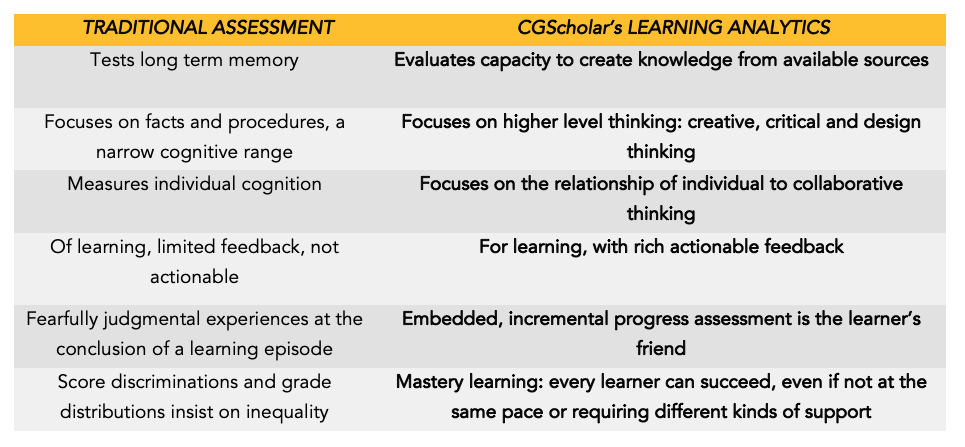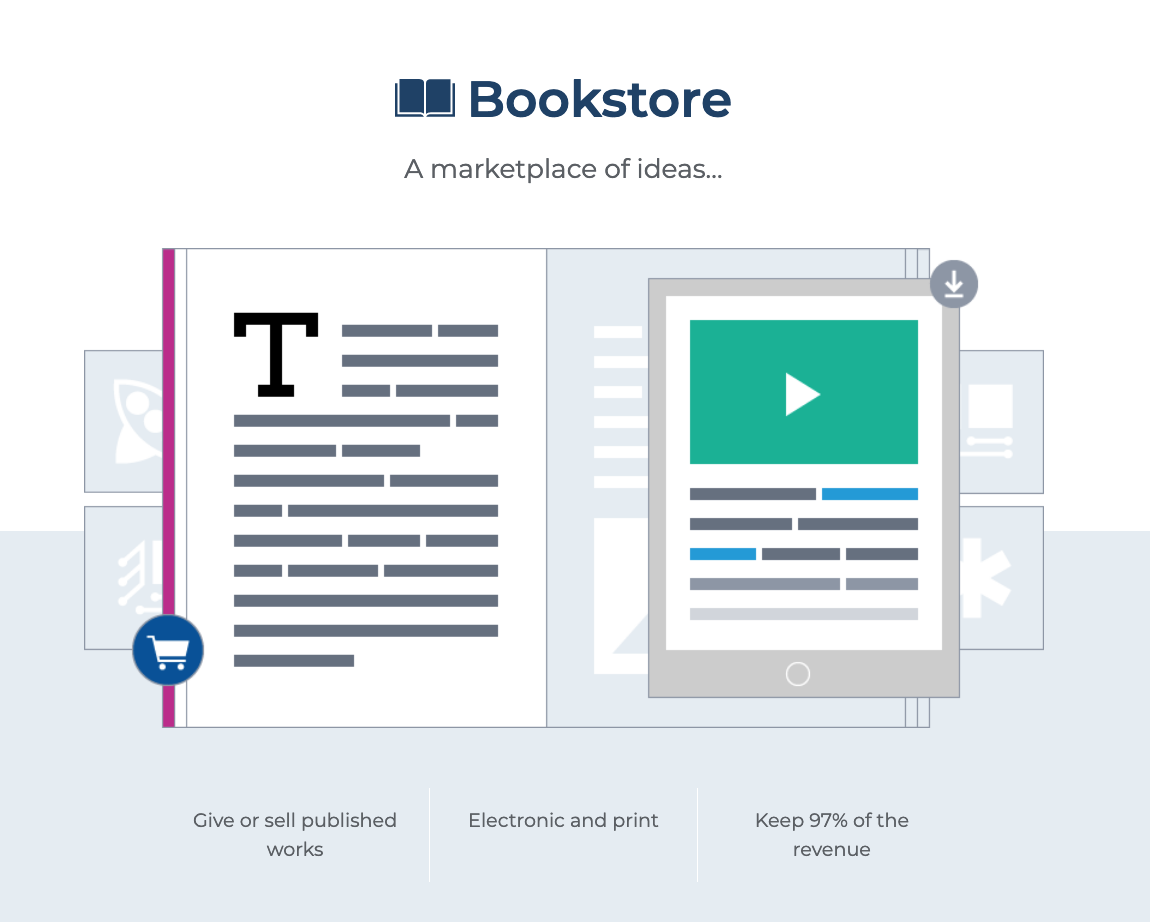 CGScholar's Bookstore app publishes multimodal content to the web—journal articles, books and learning modules, for free, for sale per item in a range of formats, and subscriptions to collections or series.
The CGScholar Learning Module app is a unique educational content curation and delivery mechanism, somewhere between a syllabus and textbook, yet quite different from both. In a CGScholar Learning Module, an instructor or instructional designer designs learning sequences which they:
curate and share multimodal content
prompt dialogue in a social media feed
enlist course participants as co-contributors of course content
create shareable peer reviewed projects, with project plans and rubrics
create shareable surveys ("Knowledge Surveys" which by definition have definite answers, or "Information Surveys" which can reflect legitimate differences of perspective between participants)
The Learning Module supports a wide range of pedagogical designs, from direct instruction, to constructivism, to AI-enabled fully reflexive pedagogy

... is the product of cutting-edge research and development into big data and artificial intelligence for education. We are standing at the cusp of a revolution in education.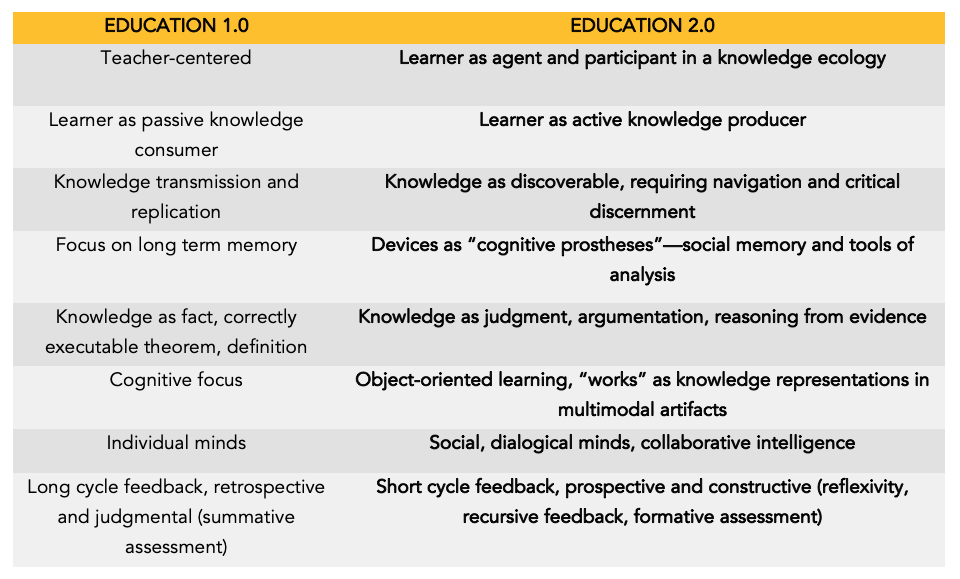 The role of the educator changes, from transmitter of content to passive learners, to designer of a learning ecology. Constructive feedback increases tenfold or more:
happens during and for learning, rather than at the end in the form of judgement that it is too late to address
"crowdsources" feedback and assessment from the multiple perspectives of machine, admins, peers, and self
makes teachers' work more efficient
motivates students with continuous feedback and the mutual obligations of a "help economy"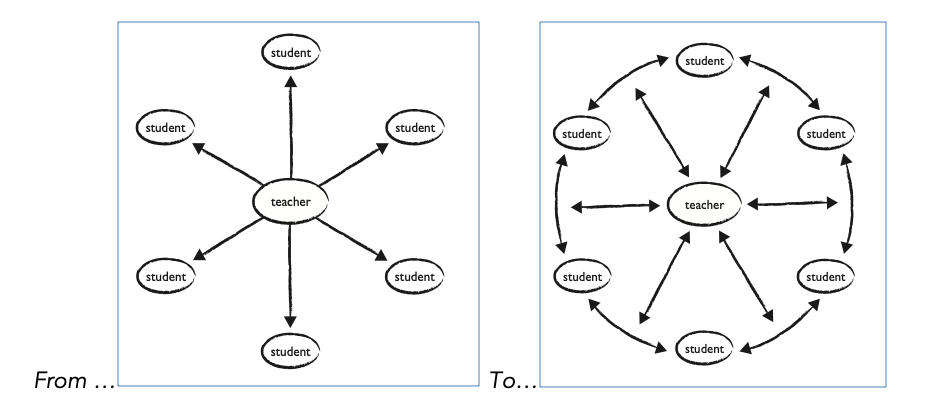 ... has been developed by a team of educators and computer scientists at the University of Illinois, CGScholar is grounded in cutting-edge research and development, applying artificial intelligence and big data analytics to e-learning ecologies. The University of Illinois is the site of many world-changing innovations, from the world's first e-learning system in 1959, to the first web browser.
For users, CGScholar is as simple as having an internet-connected device with a web browser.
Behind this is a decade of intensive research and development funded by major grants from the Institute of Educational Sciences in the US Department of Education, the Bill and Melinda Gates Foundation, and the National Science Foundation.