Here are some of the ways in which teachers and schools might get started with Learning by Design: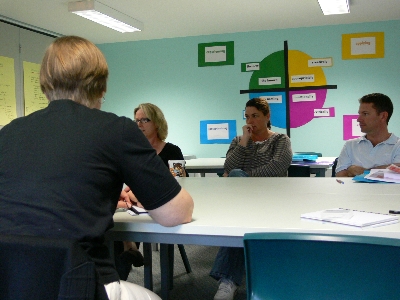 Learning by example and learning by doing: A teacher discovers a Learning Module online; they pick it up and use it. Going one step further, they might decide to adapt and rewrite a Learning Module they have discovered. And in a further step, they might decide to write their own Learning Module with the support of this website.
Attend an online or in-person training program: We offer face-to-face and online training programs, with supporting training materials and videos. If you are interested in these options, take please contact us. A self-administered training option may also be chosen by a school.
Take a whole Master's program: We offer a full, online Master's program, Learning Design and Leadership at the University of Illinois for practicing teachers. Participants write a number of Learning Modules as an integral aspect of this degree, thus linking theory to classroom practice.
Transforming Teacher Professional Practice
The objectives of Learning by Design are to:
develop teachers' capacities in instructional design and documentation of pedagogy more suited to professional sharing than traditional, paper-based curriculum and lesson planning processes, or planning frameworks linked to individual teacher schedules.
engage teachers as reflective practitioners, systematically assessing and evaluating the outcomes of their own and their peers' pedagogical practices.
cater more effectively to learner diversity, by translating lesson plans and student-accessible learning designs which can be accessed by individuals or groups, and undertaken autonomously or semi-autonomously and asynchronously, in the classroom or anywhere beyond the classroom; also allowing that more than one curriculum module (i.e. in the form of more than one Learning Element) might be undertaken simultaneously by different students at the same time in the same class.
provide more effective and explicit articulation of generic standards with learning designs customized to specific learner needs and local circumstances.
encourage teachers and schools to adopt a 'knowledge management' approach to documenting and sharing best practices; redrafting Learning Elements for reuse (modifying plans and resources for reuse based on the experience of application)—either the original teacher-author or a different teacher re-user/adapter.
engage teachers and their students in a 'new media' environment for the creation and delivery of learning experiences;
facilitate tracking of teacher and learner inputs, making explicit links between teacher input and learner performance.
Resources
Learning by Design as a Language |Download
Analysing the Mary Kalantzis video | Download
Getting Started with LbyD | Download
Cutting, Tearing and Mapping | Download
LbyD Short Topic Planner | Download
Knowledge Processes | Download
Looking for KPs in Practice | Download
Predicting Meaning KPs | Download
The Lanyon Toolkit | Download
Identifying Design Purpose | Download
---