The Learning by Design pedagogy uses eight 'Knowledge Processes'. A Knowledge Process is an activity type which represents a distinct way of making knowledge and of learning.
As designers of learning environments, teachers can choose any mix and ordering of Knowledge Processes. The purpose of indicating the Knowledge Process underlying each activity is to prompt teachers to think explicitly about the most appropriate range and sequence of learning activities for their students and subject matter.
Teachers use the Knowledge Processes as prompts to design, document and deploy their learning programs. We call the mindful and considered use of these Knowledge processes 'Learning-by-Design'.
In this context, the teacher becomes a reflective designer of learning experiences (teacher-as-designer); and classroom plans become shareable 'designs-for-learning'. Mindful and appropriate deployment of the range of Knowledge Processes is intended to foster higher order thinking skills and deeper learning.
Knowledge Process are kinds of activity, or things you do to know: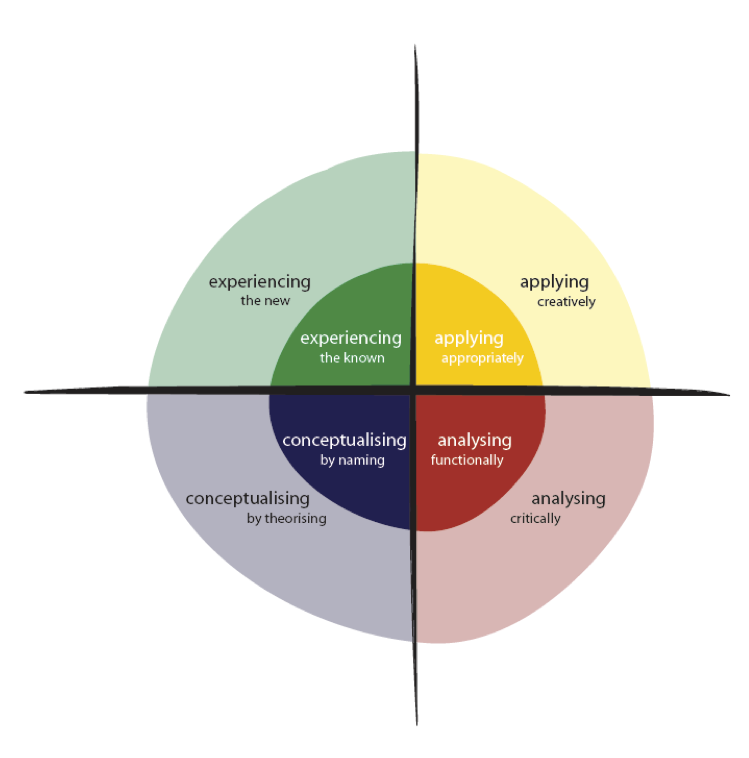 Experiencing …
the known – learners reflect on their own familiar experiences, interests and perspectives.
the new – learners observe or take part in something that is unfamiliar; they are immersed in new situations or contents.
Conceptualizing …
by naming – learners group things into categories, apply classifying terms, and define these terms.
with theory – learners make generalisations using concepts, and connect terms in concept maps or theories.
Analyzing …
functionally – learners analyse logical connections, cause and effect, structure and function.
critically – learners evaluate their own and other people's perspectives, interests and motives.
Applying …
appropriately – learners apply new learning to real world situations and test their validity.
creatively – learners make an intervention in the world which is innovative and creative, or transfer their learning to a different context.
---