CGScholar Literacy Courseware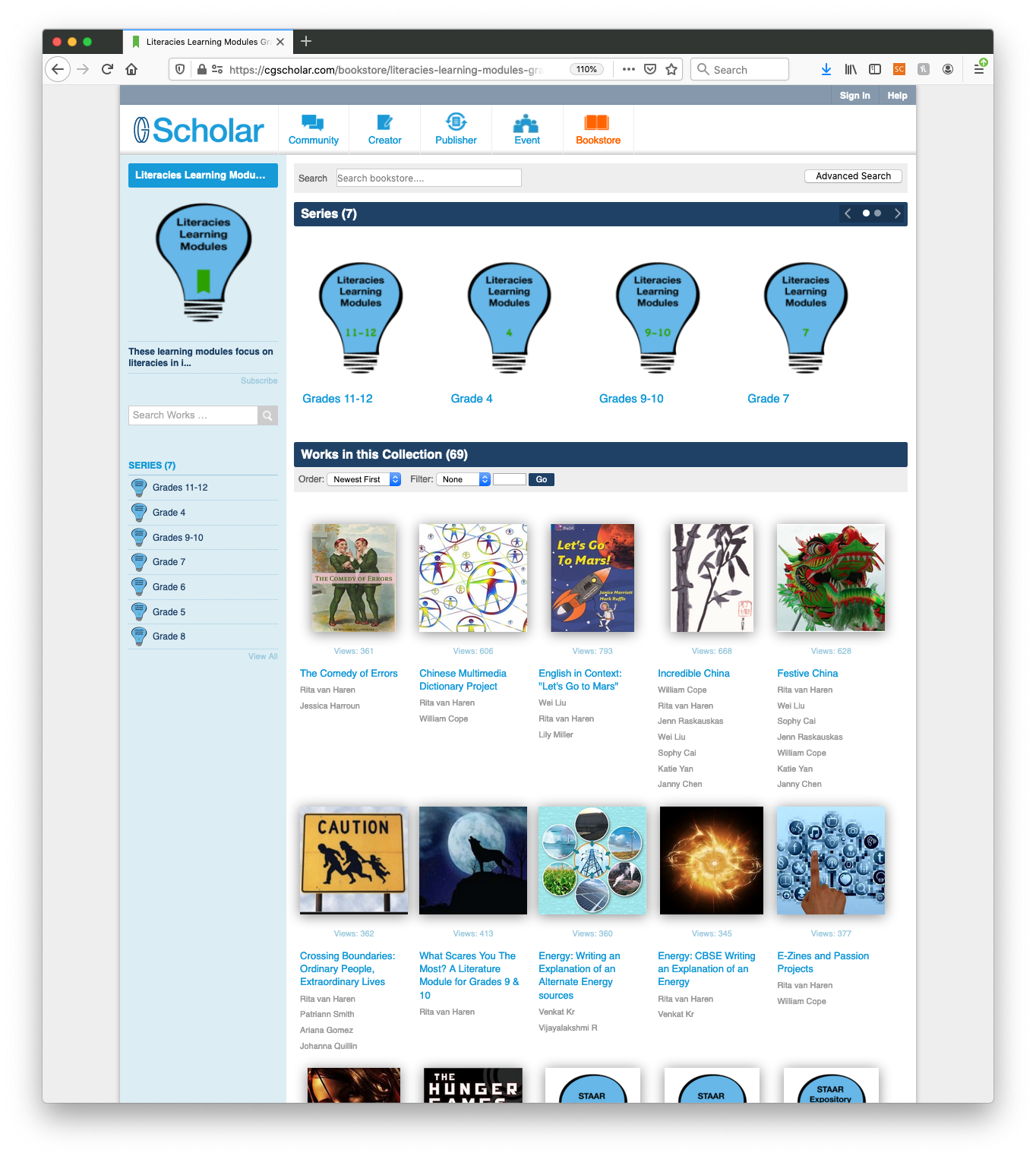 CGScholar affords teachers the opportunity to create twenty-first century literacy instruction, with rich formative assessment and engaging peer-to-peer interaction. This project supported the development of literacy courseware to supplement CGScholar addressing the US Common Core State Standards for Writing in Grades 4 to 8.
The Scholar Literacy Courseware is presented in two modes. The first is a web-delivered writing program for each of the grades 4 to 8. Each module in this program consists of:
A full writing project cycle: consisting of planning, note-taking, drafting, giving feedback from others, receiving feedback from others, revising, publication and class discussion of works published in CGScholar's Community space.
Strategic "overt instruction," explicitly exploring writing and language features relevant to the text type being addressed in the module. These would be "chunked" into components with student activities that are about one lesson long. Over the course of each grade level, overt instruction covers all writing and writing-related aspects of the CCSS.
"Information surveys" which gather information on student perspectives, and "knowledge surveys," which provide students and teachers with selected response data about student understanding and knowledge.
The second mode of presentation is the "Writer's Toolkit," in which the "overt instruction" components are arranged analytically. In this format, teachers can reach for specific instruction in areas where the whole class or some students need supplementary explicit instruction. Alternatively, students can "look up" self-guided how-to instruction. Topics might range from language specifics (how to write topic sentences, interesting transitions, and linking evidence to claims in arguments), to web writing (how to effectively integrate image, diagram, video, audio and dataset into web presentations), and collaborative writing skills (how to give constructive feedback, useful annotations, informative peer reviews).
This research and development project has been supported by a grant from the Bill and Melinda Gates Foundation.