Gunther Kress, Professor of Semiotics and Education at the University of London, illustrates the different domains of representation and communication.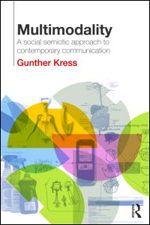 Representation
and
communication
are distinct social practices.
Representation
focuses on my
interest
in my engagement with the world and on my wish to give material realization to my meanings about the world.
Communication
focuses on my wish or need to make that
representation
available to others, in my interaction with them. The dual frame of
rhetoric
and
design
permits both:
rhetoric
as the politics of communication and
design
as the translation of rhetorical intent into semiotic implementation.
Rhetoric
is oriented to the social and political dimensions of communication;
design
is oriented to the semiotic. …