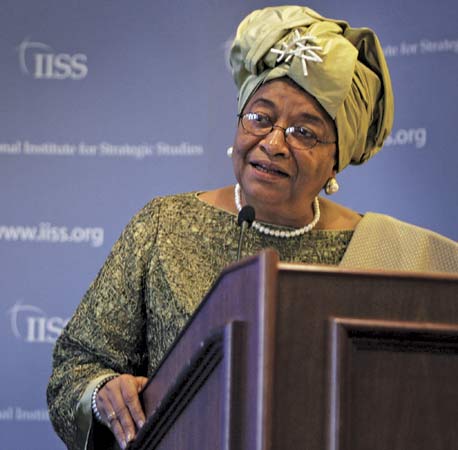 Ellen Johnson Sirleaf, President of Liberia and Nobel Peace Prize Laureate, addresses the issues of education for social progress and empowerment of girls:
Education is fundamental to our nation's progress and to our personal development. For that reason, education – especially girls' education – has been, and remains, the highest priority on my personal agenda. Empowering girls is a strategic investment, and this learning environment contributes to the realization of our hopes and dreams for our girls and young women.
Our vision – our promise – is to transform our young population into a skilled, educated and vibrant labor force. With two-thirds, or 66 percent, of our population aged 25 or under, it is imperative that we do so. We know only too well that we will not achieve our development goals until we have enabled our youth to become educated future leaders. This is one reason we advocate for, in addition to academic learning, vocational training, such as EPAG, for those who have no skills, to return to them their dignity through employment.
To you, EPAG Graduates, some final words: Your training may be over, but your education continues. As you go out into the world of work, seize every opportunity to learn. Have a good attitude; show patience and fortitude; be proactive; work hard; communicate with your employer; ask questions. Make the most of the skills you learned in class.
I also urge you to hold yourself to the highest standards. We are counting on you to help us cultivate a new culture of professionalism in Liberia. Serve yourselves and your country well and make us proud of you as EPAG ambassadors. Use your EPAG experience as a stepping-stone to realizing your dreams. So much was invested in you – so much time, money and effort. You were given the opportunity to better your condition, and you took it. Continue to profit from it.
---
Johnson Sirleaf, Ellen. 28 February 2011. "Education is Fundamental to Progress and Development." CEP Graduation Ceremony for the Economic Empowerment of Adolescent Girls and Young Women (EPAG) Project. http://www.findthatfile.com/search-80846623-hPDF/download-documents-2011022-president-keynote-address-epag-graduation.pdf.htm
---