Apartheid was a system of government in South Africa, abolished in 1994, which systematically separated groups on the basis of race classification. The Apartheid system of racial segregation was made law in South Africa in 1948, when the country was officially divided into four racial groups, White, Black, Indian and Coloureds (or people of mixed race, or non-Whites who did not fit into the other non-White categories). 'Homelands' were created for Blacks, and when they lived outside of the homelands with Whites, non-Whites could not vote and had separate schools and hospitals, and even beaches where they could swim or park benches they could sit on.
It was a criminal offence for a White person to have sexual relations with a person of another race, but the person of the other race, not the White, would be prosecuted as a result. The system of Apartheid came to an end when President Nelson Mandela came to power in 1994
A classroom in Crossroads, a squatter township in South Africa, 1979. ] 'Apartheid' means 'being apart' in Dutch and Afrikaans, a variation of Dutch spoken by the Dutch settlers of South Africa.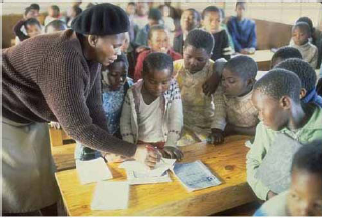 'I just want to remind the Honourable Members of Parliament that if the native in South Africa is being taught to expect that he will lead his adult life under the policy of equal rights, he is making a big mistake. The native must not be subject to a school system which draws him away from his own community, and misleads him by showing him the green pastures of European society in which he is not allowed to graze.'