Herbert Spencer on the Survival of the Fittest
Herbert Spencer (1820–1903) was an English philosopher who initiated a philosophy called 'Social Darwinism'. He coined the term 'survival of the fittest' seven years before Darwin's publication of his theory of natural history, The Origin of the Species in 1859. Spencer became an enthusiastic supporter of Darwin's theory of evolution, believing it could also be applied equally well to human societies.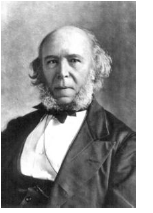 All legislation which assists the people in the satisfaction of their natural wants—which provides a fund for their maintenance in illness and old age, educates their children, takes care of their religious instruction, looks after their bodily health, or in any other way does for them what they may be fairly expected to do for themselves, arises from a radically wrong understanding of human existence. It wholly neglects the condition of man's earthly being, and altogether loses sight of one of the great and universal laws of creation …
[It] defeats its own end. Instead of diminishing suffering, it eventually increases it. It favours the multiplication of those worst fitted for existence, and, by consequence, hinders the multiplication of those best fitted for existence—leaving, as it does, less room for them …
[Such] legislation … rests upon the assumption, that men are not fitted to take care of themselves. It treats them as so many children … Poor things! if we do not look after them, they will be going to ignorant quacks for advice, and, perhaps, get poisoned! Such is practically the language of the state towards its subjects, and the longer they are treated in this manner, the more helpless will they become. If any one foolishly chooses, for the sake of saving a little money, to employ an uneducated empiric [medicine maker] he must take the consequences, be they what they may. He has acted under the guidance of his own free will, and, if he suffers, he has no one to blame but himself …
A large class of officiously humane people, can never see any social evil, but they propose to pass some law for its future prevention. It never strikes them that the misfortunes of one are lessons for thousands—that the world generally learns more by its mistakes than by its successes—and that it is by the continual endeavour to avoid errors, difficulties, and dangers, that society is to become wiser. It is not for a moment denied that many individuals have been injured by druggists' prescriptions, and quack medicines—some temporarily weakened—others permanently debilitated—and a few perhaps killed outright. But, admitting this, it does not follow that it is not the wisest in the end, to let things take their own course. Such conduct may at first sight appear unkind, but when its effects upon future generations are considered, it will be found to be the reverse.
Establish a poor [welfare] law to render his forethought and self-denial unnecessary—enact a system of national education to take the care of his children off his hands—set up a national church to look after his religious wants—make laws for the preservation of his health, that he may have less occasion to look after it himself—do all this, and he may then, to a great extent, dispense with the faculties that the Almighty has given to him. Every powerful spring of action is destroyed—acuteness of intellect is not wanted—force of moral feeling is never called for—the higher powers of his mind are deprived of their natural exercise, and a gradual deterioration of character must ensue. Take away the demand for exertion, and you will ensure inactivity. Induce inactivity, and you will soon have degradation … [T]o do for the people what they are naturally fitted to do for themselves, is to adopt one of the most efficient means of lowering the standard of national character …
The beneficial results of the survival of the fittest, prove to be immeasurably greater than those above indicated. The process of 'natural selection,' as Mr Darwin called it, co-operating with a tendency to variation and to inheritance of variations, he has shown to be a chief cause (though not, I believe, the sole cause) of that evolution through which all living things, beginning with the lowest and diverging and re-diverging as they evolved, have reached their present degrees of organization and adaptation to their modes of life …
Every animate creature stands in a specific relation to the external world in which it lives. From the meanest zoophyte, up to the most highly organised of the vertebrata, one and all have certain fixed principles of existence. Each has its varied bodily wants to be satisfied—food to be provided for its proper nourishment—a habitation to be constructed for shelter from the cold, or for defence against enemies—now arrangements to be made for bringing up a brood of young, nests to be built, little ones to be fed and fostered—then a store of provisions to be laid in against winter, and so on, with a variety of other natural desires to be gratified. For the performance of all these operations, every creature has its appropriate organs and instincts—external apparatus and internal faculties; and the health and happiness of each being, are bound up with the perfection and activity of these powers. They, in their turn, are dependent upon the position in which the creature is placed. Surround it with circumstances which preclude the necessity for any one of its faculties, and that faculty will become gradually impaired. Nature provides nothing in vain. Instincts and organs are only preserved so long as they are required. Place a tribe of animals in a situation where one of their attributes is unnecessary—take away its natural exercise—diminish its activity, and you will gradually destroy its power. Successive generations will see the faculty, or instinct, or whatever it may be, become gradually weaker, and an ultimate degeneracy of the race will inevitably ensue.
If … species and genera and orders have arisen by evolution, then, as Mr. Darwin shows … [d]isappearance of intermediate forms, less fitted for special spheres of existence … [is] an inference which is in harmony with what we know respecting races of men and … animals.
---
Spencer, Herbert. 1884 (1992). The Man Versus The State. Indianapolis, IN: Library of Economics and Liberty. S. 6.93, 3.39, 6.91, 6.92, 6.95, 3.40, 6.94. || Amazon || WorldCat
—. 1862. First Principles. §133.
---