Working at Google
Eric Schmidt is the CEO of the Internet search company, Google, and Hal Varian is a professor at the University of California, Berkeley, who consults with Google. The productive diversity workplace—take Google, for instance—requires the kinds of capability and sensibility supported by New Learning. Here Schmidt and Varian write the life of the knowledge worker at Google.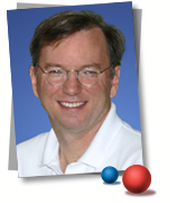 At Google, we think business guru Peter Drucker well understood how to manage the new breed of 'knowledge workers'. After all, Drucker invented the term in 1959. He says knowledge workers believe they are paid to be effective, not to work 9 to 5, and that smart business will 'strip away everything that gets in their knowledge workers' way' … We provide a standard package of fringe benefits, but on top of that there are first-class dining facilities, gyms, laundry rooms, massage rooms, haircuts, carwashes, dry cleaning, commuting buses—just about anything a hardworking engineer might want. Let's face it: programmers want to program, they don't want to do their laundry, so we make it easy for them to do both …
Almost every project at Google is a team project, and teams have to communicate. The best way to make team communication easy is to put team members within a few feet of each other. The result is that virtually everyone at Google shares an office … Even the CEO shared an office at Google for several months after he arrived. Sitting next to a knowledgeable employee was an incredibly effective educational experience.
Modern corporate mythology has the unique decision maker as a hero. We adhere to the view that the 'many are smarter than the few', and solicit a broad base of views before reaching any decision. At Google, the role of the manager is that of an aggregator of viewpoints, not the dictator of decisions. Building a consensus sometimes takes longer, but always produces a more committed team and better decisions … We foster to create an atmosphere of tolerance and respect, not a company full of yes men.
---
Schmidt, Eric, and Hal Varian. 2006. 'Google: Ten Golden Rules.' Pp. 42–46 in Newsweek Special Edition: Issues 2006. pp. 42, 44.
---