Eleanor Roosevelt on Learning to be a Citizen
Eleanor Roosevelt (1884–1962) was wife of the President of the United States, Franklin D. Roosevelt, who developed the welfare state during the Depression of the 1930s and the Second World War that followed. Here she speaks about the importance of citizenship education.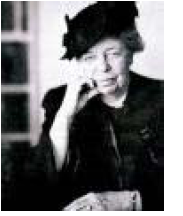 What is the purpose of education? This question agitates scholars, teachers, statesmen, every group, in fact, of thoughtful men and women. The conventional answer is the acquisition of knowledge, the reading of books, and the learning of facts. Perhaps because there are so many books and the branches of knowledge in which we can learn facts are so multitudinous today, we begin to hear more frequently that the function of education is to give children a desire to learn and to teach them how to use their minds and where to go to acquire facts when their curiosity is aroused. Even more all-embracing than this is the statement made not long ago, before a group of English headmasters, by the Archbishop of York, that 'the true purpose of education is to produce citizens.'
If this is the goal-and in a democracy it would seem at least an important part of the ultimate achievement-then we must examine our educational system from a new point of view …
I would have our children visit national shrines, know why we love and respect certain men of the past. I would have them see how government departments are run and what are their duties, how courts function, what juries are, what a legislative body is and what it does. I would have them learn how we conduct our relationships with the rest of the world and what are our contacts with other nations. The child seeing and understanding these things will begin to envisage the varied pattern of the life of a great nation such as ours and how his own life and environment fit into the pattern and where his own usefulness may lie …
I am going to ask you to go back with me for a minute some thirty years or more and think of the changes wrought by the last few years. At that time Theodore Roosevelt's example was for the first time awakening in many young men of America the feeling that their citizenship meant a little more than the privilege of living under the Stars and Stripes, criticizing the conditions of government and the men responsible for its policies and activities, enjoying such advantages as there might be under it, and, if necessary, dying for it in a war which they had had no share in bringing on or in trying to avert.
Theodore Roosevelt was teaching by precept and example that men owed something at all times, whether in peace or in war, for the privilege of citizenship and that the burden rested equally on rich and poor. He was saying that, no matter what conditions existed, the blame lay no more heavily on the politician and his machine controlling city, State, or nation, than on the shoulders of the average citizen who concerned himself so little with his government that he allowed men to stay in power in spite of his dissatisfaction because he was too indifferent to exert himself to get better men in office.
So young men of all kinds were hearing of a 'service' which did not mean being a sailor or a soldier, a doctor or a minister, the only professions in which the word 'service' had heretofore had a meaning! Thus began to be spread abroad the idea that "a service" was owed to the country in peace, and that this could only be rendered satisfactorily when every citizen took an interest in good government.
As girls went in those days, I suppose my own education was fairly typical, and I confess with some shame that at the age of twenty, when asked by an Englishwoman how our government functioned, I was as completely floored as if she had asked me to describe the political events on the moon! I had heard the men in the family mention political happenings, but it was not a subject of general or frequent conversation in our presence.
Women did not vote and were not expected to be interested. Besides there was something dark and sinister about politics, and it was more respectable not to know politicians or political methods too well. Business might necessitate some dealings with these rather inferior and nefarious beings, but the general attitude of the righteous was like that of a high-minded and upright citizen of New York City who once remarked to me that a certain political organization was undoubtedly corrupt, but he preferred (tho belonging to an opposite political party) to keep this wicked organization in power as 'you paid for what you wanted and were sure to get it', whereas reform administrations were not so reliable in this ability to "deliver the goods"!
---
Roosevelt, Eleanor. 1930. 'Good Citizenship: The Purpose of Education.' Pp. 4, 94, 97 in Pictorial Review.
---